Pave the way to excellence by purchasing a brick in the TCNJ Alumni Grove!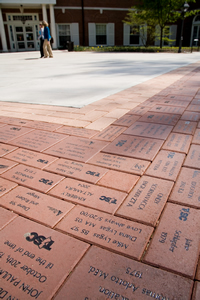 TCNJ is excited to offer you the opportunity to purchase a personalized engraved brick to be set in our alumni grove. The Alumni Grove is an area used by the entire campus community and is located just outside TCNJ library and Eickhoff Hall. Over 2,300 personalized bricks have been donated for placement in the Alumni Grove.
As a member of TCNJ's family, you are invited to leave a lasting and unchanging legacy of your own by personalizing a brick in the Alumni Grove. Bricks are available in 4×8 inch and 8×8 inch sizes and are priced at $150 and $350, respectively. Each brick includes a free mini brick replica which will be mailed to you after the brick is placed. The replica is our way of saying "thank you" for playing a role in our success!
Bricks can be engraved with names, short sayings, memorial commemorations, and Greek letters, as well as one of three different past and present college logos or the College athletics logo. Be imaginative! This is an opportunity to not only give back to your alma mater, but to create something special that you, your children, or even your grandchildren will be able to appreciate while visiting the campus.
Purchasing a brick not only ensures a lasting legacy at the college, but it directly benefits on-campus programming for the TCNJ community.
Look up a brick by name or graduation year.  Alumni Brick Locator »
---
For questions on ordering a brick for Alumni grove, please contact Christine Buber, Annual Giving Coordinator.
Email: rodrigan@tcnj.edu
Phone: 609-771-3358